To comply with sexual harassment training laws and promote a positive work environment, hundreds of employers rely on Clear Law Institute's online training, Positive Workplace: Preventing Workplace Harassment and Bullying.
50-State Compliant.  The training fulfills the sexual harassment training and anti-bullying training requirements of all federal and state laws, including those in California (SB 1343, SB 396, AB 1825, & AB 2053), Connecticut, Delaware, Maine, New York State, and New York City. (Click on the links to learn how to comply with these states' new sexual harassment training laws.)
In-House Legal Expertise.  Court cases and state laws, such as California AB 1825, make clear that training providers must have expertise in the prevention of harassment, discrimination, and retaliation to be qualified to provide training on these topics. With Clear Law's in-house legal expertise, you can be assured that the training is legally accurate and kept up-to-date with any legal changes nationwide.
We Answer Users' Questions.  Clear Law Institute answers users' questions within two business days, as required by various sexual harassment training laws.
Innovative Instructional Design.  The course utilizes a story-based approach with engaging instructional design and learning games.
Course Administration. We make it effortless to roll out the training to your employees, and we handle all technical support inquiries from users.
Track Record.  Our training has been used by hundreds of thousands of employees at hundreds of organizations, such as PETCO and the University of Notre Dame. Our clients rave about the quality of the training and our customer support.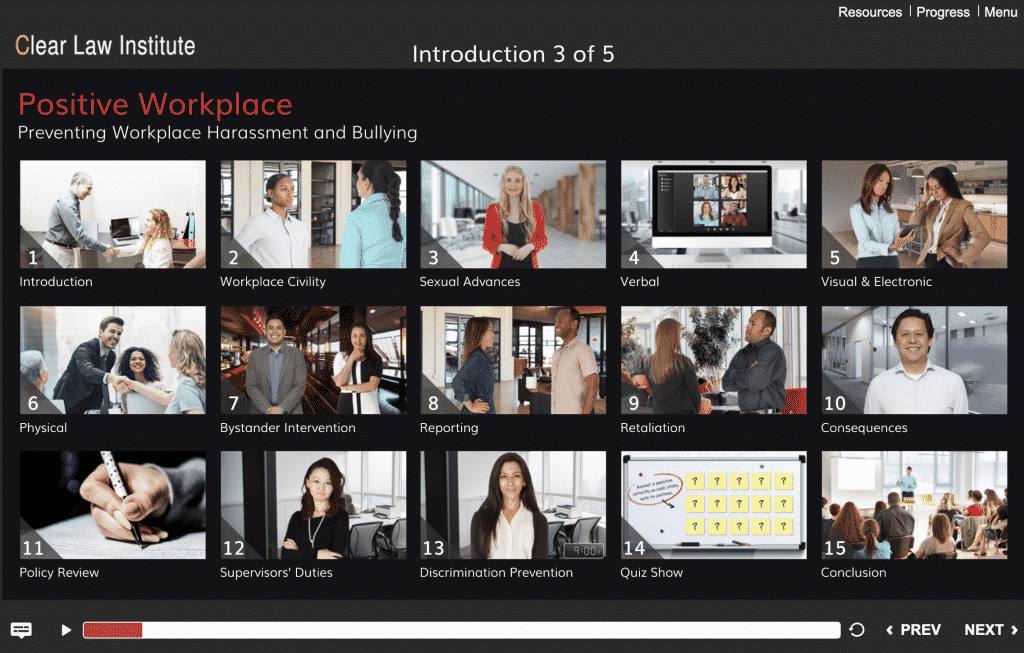 Sexual Harassment Prevention Services
Clear Law Institute provides not just online sexual harassment training, but also:
Training on how to investigate complaints for organizations such as Google and the EEOC.
Development of a plan to ensure compliance with all training laws.
Board of Director and executive leadership training on their responsibilities for harassment prevention and investigations.
In-person training for supervisors and employees.
Review of workplace policies to ensure compliance with federal and state laws.
Risk assessments and culture surveys.
Our team, which includes former U.S. Department of Justice and EEOC attorneys, has provided services for organizations such as Google, the United Nations, and the World Bank. To learn more about our harassment prevention services, contact us.
Clear Law's online sexual harassment and workplace harassment training engages users through interactive learning games. In this "Family Feud" type game, the learner tries to enter all the characteristics protected by federal harassment law.
PowerPoint or parables—which is more effective? For thousands of years, humans have learned best through stories. Clear Law's online course presents dozens of nuanced scenarios—many of which are based on actual cases. After each scenario, the learner is asked a question and then receives feedback.
Instead of lecturing employees with a simplistic list of "do's" and "don'ts," Clear Law's online sexual harassment training focuses on exploring the nuances of "gray area" situations that employees may face in real life. In this example, learners see how a decision to report or not report harassing behavior can impact others.
Our assessment ensures that every employee will master the course content—without allowing anyone to fail. To complete the course, the employee must complete the Quiz Show. Each cell in the Quiz Show represents a major principle taught in the course. If the learner misses the first question in a cell, the course provides the learner feedback and then provides another question on the same topic. The user cannot complete the course before correctly answering a question in each cell.
Course Versions (50-State Compliant)
Multi-state employers can now train their workforce with only three course versions:
 Advanced Supervisor Course (for supervisors located in California or Connecticut)

Supervisor Course (for supervisors in all other states)

Employee Course (for employees nationwide)
Each course version covers all of the training content required by the various state sexual harassment training and anti-bullying training laws. In certain course sections, users select where they work to receive state-specific instruction.
Languages: Each version is available in either English or Spanish.
International: We also offer an international course version.
Covers All Forms of Harassment, Civility, Bullying, and Bystander Intervention
Consistent with EEOC guidelines and court decisions, Clear Law's training covers not just sexual harassment, but all forms of workplace harassment, discrimination, and retaliation. For example, as required by various state laws, including California SB 396, the training covers harassment based on gender identity and expression.
As required by some states' laws, such as California law AB 2053 and SB 1343, the training also addresses topics such as workplace civility, bullying, and bystander intervention. We can also cover topics such as unconscious bias.
Our online course teaches employees not only what is harassment but also what harassment is not. In this way, employees are less likely to file harassment complaints for conduct that is not in fact harassment.
Clear Law Institute's course addresses new topics relating to workplace harassment. For example, the course addresses how the misuse of social media and mobile devices can contribute to a hostile work environment and lead to employee discipline. As recommended in the report issued by the EEOC Select Taskforce on Sexual Harassment, the course also addresses workplace civility and bystander intervention techniques.
Required Legal Expertise for Training
State laws and court decisions from around the country require employers to ensure that their training is developed and delivered by legal experts. For example, California's mandatory sexual harassment training law (AB 1825) specifically requires that trainers must have "expertise in the prevention of harassment, discrimination, and retaliation." The trainer must be an attorney, professor, instructor, human resource professional or harassment prevention consultant with at least two years of expertise in employment law or harassment prevention.
Clear Law's in-house legal expertise ensures that the course is legally accurate and up-to-date with changes in the law. Clear Law's CEO, Michael Johnson, is one of the leading experts in harassment law in the country. A former U.S. Department of Justice attorney and graduate of Harvard Law School, Mr. Johnson brought one of DOJ's first class-action style sexual harassment lawsuits. The United Nations has retained him to consult on its harassment policy. He has developed online and in-person harassment training used by more than 1.5 million people. He also has provided training on how to investigate sexual harassment allegations to organizations such as Google, the United Nations, and the EEOC.
We Answer Users' Questions
Several state laws require that online sexual harassment training users be able to submit questions and have those questions answered within a reasonable time frame. In some states, the time frame is designated as no more than two business days. At no additional cost, Clear Law Insitute has experts to answers questions about the training content.
Unlike most harassment course providers, Clear Law Institute has in-house legal expertise to ensure that its course is kept up to date with changes in the law. If the law changes so as to change the course instruction, Clear Law will update your course immediately at no cost. Indeed, in the last few years, Clear Law has updated its training numerous times because of changes in various state laws.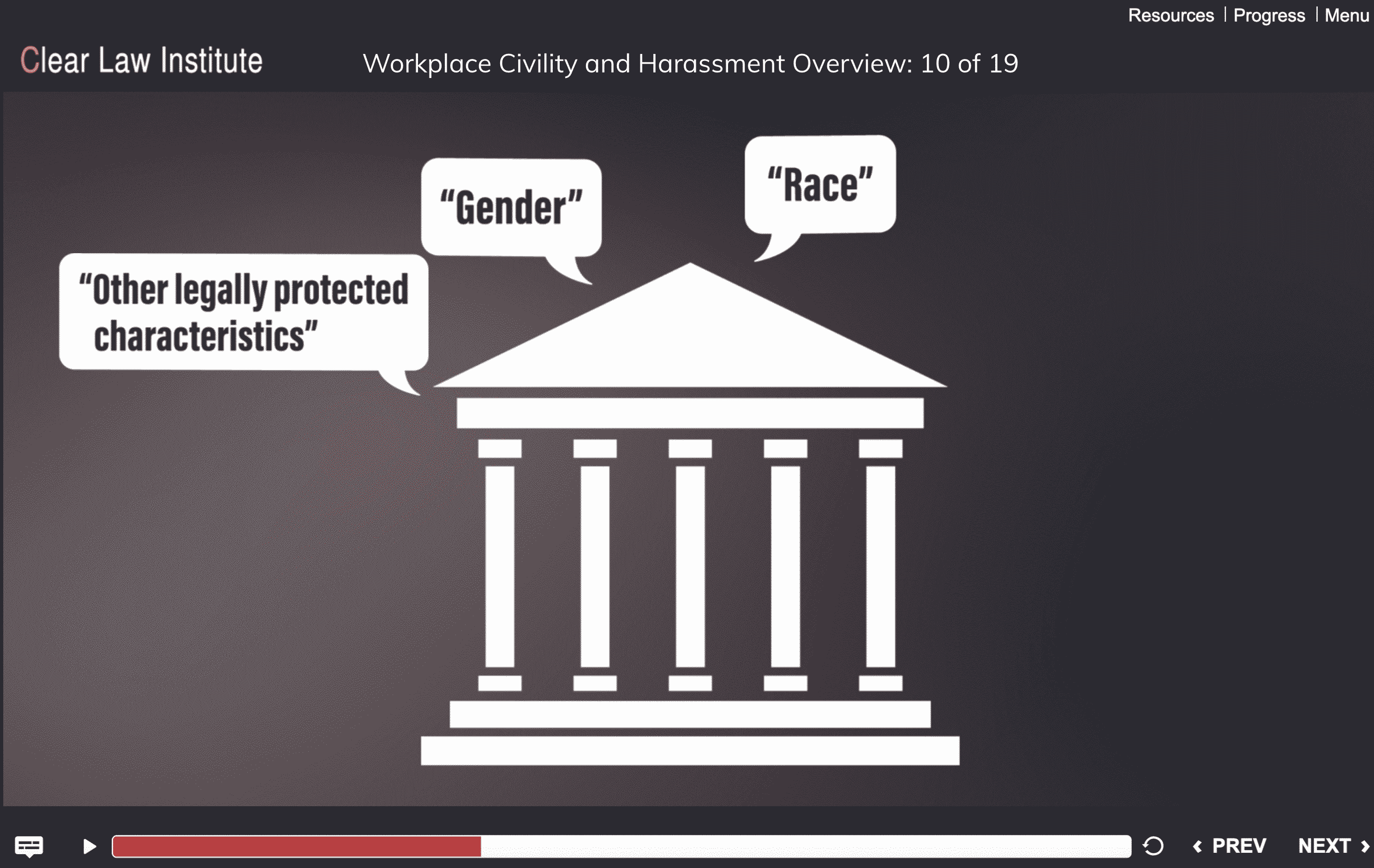 Clear Law's harassment training covers not just federal law, but also state laws. Specifically, the training includes all required content under various state and local laws, including the 2018 New York State sexual harassment prevention law and the 2018 New York City "Stop Sexual Harassment in NYC Act."  The training also covers the content required by Connecticut, Delaware, and Maine sexual harassment training laws.  The training also addresses the content required by California's AB 1825 and SB 1343 sexual harassment training laws, California's AB 2053 anti-bullying training law, and California's SB 396 gender identity, gender expression, and sexual orientation harassment training law.
You can start the online training on one device and then finish on another. You don't have to complete the course in one sitting. If you exit the course, when you return you will resume from where you left off.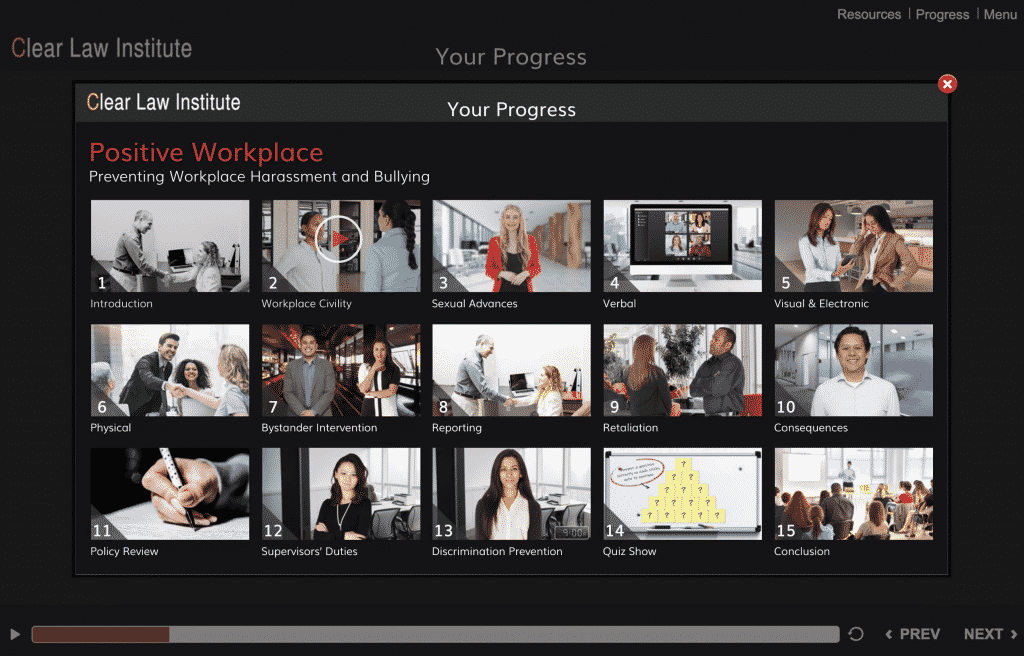 We make delivering the course to your employees effortless. We will either: (1) Notify your employees of the need to take the course and send you periodic reports on who has completed the course, (2) Train you in 10 minutes to administer our robust but user-friendly Learning Management System ("LMS"), or (3) Load the course onto your LMS and fully test it to ensure there are no problems. We have experience delivering the training to hundreds of thousands of users on a variety of Learning Management Systems.
You should not have to become a computer support specialist to roll out a harassment course to your employees. Unlike many online course providers, we provide technical support to your employees at no additional cost. If any employee has a problem with the course, they will call us, not you.
We can include your logo, relevant policies, workplace images, and an introductory message from a senior official in your organization.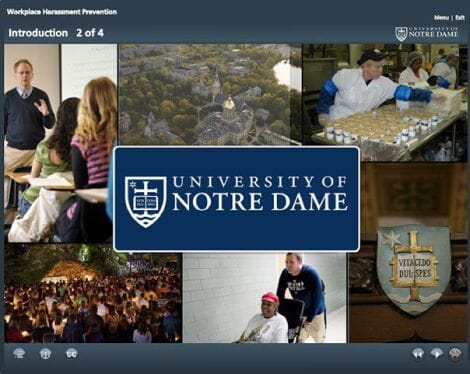 Policy Review & Acknowledgement
Users can be required to certify that they have read and understood your harassment policy, which is included in the training. We can include a "Policy Review" exercise where users are required to search your policies to find the answers to questions relating to your policies.
Advanced Customizations Available
Clear Law Institute can customize the course further to meet your organization's training needs. We can even have scenarios take place in your workplace environment. To learn more, Contact Us.