Foreign Corrupt Practices Act (FCPA) Training
Interactive, online training
Practical guidance on how to comply with the FCPA, UK Bribery Act, and other anti-bribery laws 
Users can take on computer, tablet, or phone
We handle all tech support

Why Provide FCPA Training?
FCPA training is critical to ensure that employees comply with the U.S. Foreign Corrupt Practices Act, the UK Bribery Act, and other anti-bribery and anti-corruption laws. The U.S. Foreign Corrupt Practices Act (FCPA), the UK Bribery Act, and many other domestic and international laws outlaw bribery and other forms of corruption. In the past several years, companies around the world have paid hundreds of millions of dollars in fines for violating these laws. At the same time, many executives and business development professionals have spent years in prison for violating these complex laws. 
In many cases, companies and their employees violate anti-bribery laws without even being aware that their actions are illegal.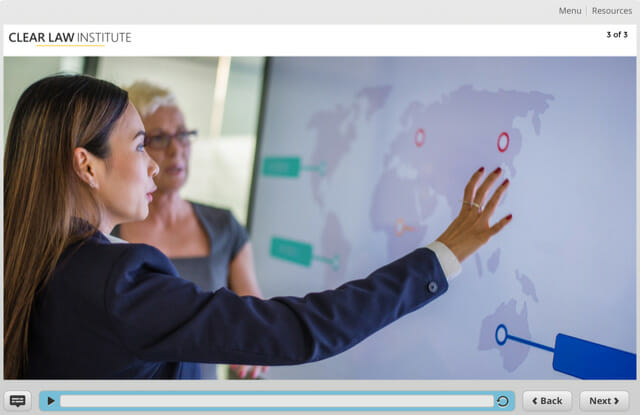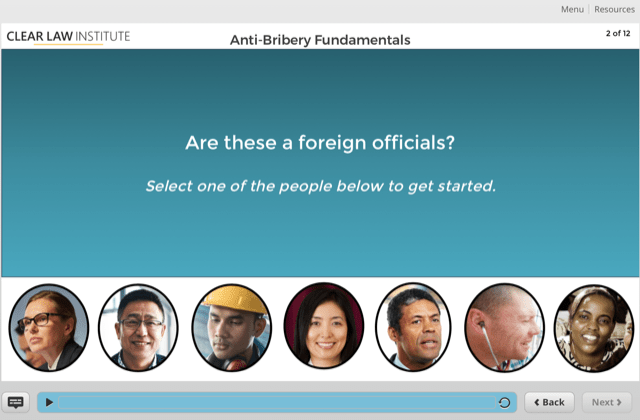 Who should take FCPA training?
Anti-bribery training should be provided to all executives, sales, and marketing professionals, finance and operations professionals, and anyone else who might become involved in or become aware of bribery and other forms of corruption.
While there are laws that prohibit bribery of anyone, organizations must be especially cautious when dealing with government officials.  Certain laws, such as the U.S. Foreign Corrupt Practices Act (FCPA) and the UK Bribery Act, prohibit bribery of foreign government officials anywhere in the world.
Organizations should train not only their employees but also any agents or third parties that might knowingly or unknowingly violate bribery laws in the course of their work.
Customization and Languages
Instead of providing generic training, employers can customize this training by including:
Logo
An introductory audio or video message from their CEO or other senior official welcoming users to the course
Company-specific policies on the FCPA, UK Bribery Act, and other anti-corruption laws
At a modest cost, Clear Law can also modify the training to include scenarios that directly relate to the actual issues your employees may face.  Using "green screen" type technology, Clear Law is able to quickly and inexpensively change actors and backgrounds to create employer-specific scenarios.
Clear Law can provide this training in multiple languages as needed.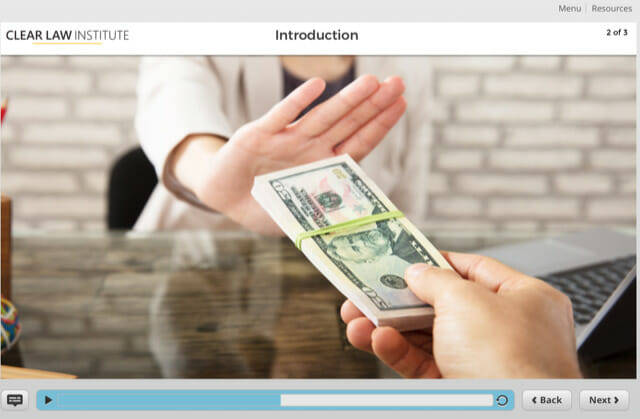 Using a variety of interactive scenarios and learning exercises, Clear Law's online Anti-Bribery Training explorers the nuances of the following topics:
What are the relevant bribery and corruption laws?
FCPA
UK Bribery Act
Other domestic and international laws
Who is a "foreign official"?
Learners engage in an exercise where they identify various people who could be considered foreign governmental officials, from prime ministers to public school teachers.
Prohibitions on "corrupt payments"
What is a "corrupt payment"
Gifts to the decision-makers or their friends or family members
Use of 3rd-party agents to provide gifts
Non-monetary gifts
Paying for business and personal travel
Gifts to charities
What to do if competitors are offering gifts to secure business
Contract due diligence and how to spot "red flags" of corruption
Facilitation Payments
What are "facilitation payments"
When facilitating payments may be legal to expedite "routine government action"
FCPA vs. the UK Bribery Act's treatment of facilitation payments
Your organization's policy on facilitation payments
Who must approve facilitation payments
The requirement for accurate documentation of all payments
Difference between paying a bribe and being extorted in a crisis situation
Penalties for Violating Bribery Laws and Organization Policies
Discipline
Financial penalties, including federal civil and criminal fines
Criminal penalties, including prison time
Reporting Concerns
When to seek guidance about possible bribery or corruption
How to report concerns or allegations
Policy Review Exercise
Learners view your organization's policy on anti-bribery and anti-corruption.
Learners must acknowledge that they have read and understood your policy before completing the course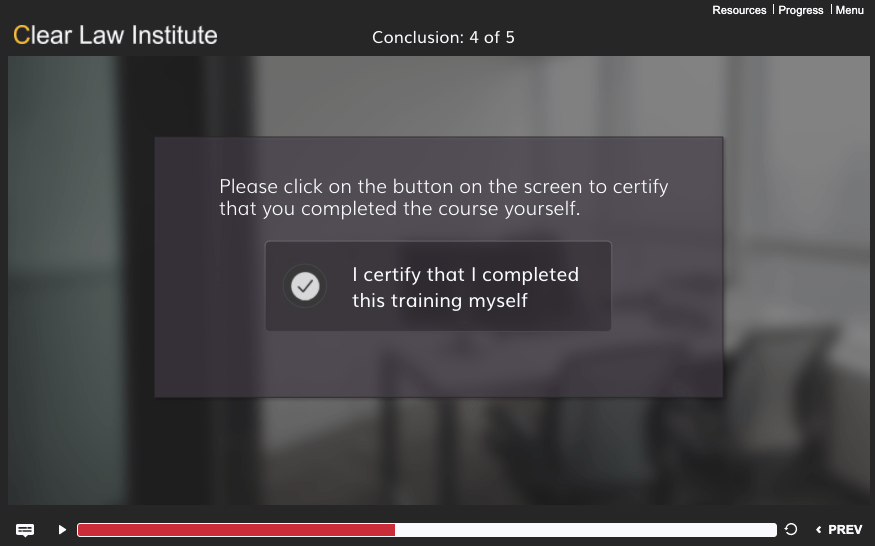 Policy Reviews and Consultation
Unlike most training providers, Clear Law Institute is a full-service compliance company with attorneys on staff.  In addition to providing legally accurate and up-to-date training, we are available to review your current anti-bribery policy to ensure that it complies with relevant laws and best practices.
Clear Law Institute provides online compliance training for more than 1,000 clients, including: