COVID-19 Return to the Workplace Online Training
Complies with OSHA guidelines and mandatory state training laws such as those in California, Connecticut,  Illinois, Kentucky, Maine, Massachusetts, Michigan, Minnesota, New Hampshire, New Mexico, New York, Oregon, Rhode Island, Vermont and Washington
Users can take on computer,  tablet, or phone
We handle all tech support

Clear Law Institute provides online compliance training for more than 1,000 clients, including:


Mandatory COVID-19 Return to the Workplace Training
As employers across the United States welcome employees back to the workplace, OSHA has made clear that employers should provide "workers with up-to-date education and training on COVID-19 risk factors and protective behaviors."
Also, several states, such as California, Connecticut, Illinois, Kentucky, Maine (Retail), Massachusetts, Michigan, Minnesota, New Hampshire, New Mexico, New York, Oregon, Rhode Island, Vermont, and Washington, have already mandated that employers provide COVID-19 training to employees, and more states and localities are sure to follow.  Some of the state laws require that specific content be included in the training. To learn more about the training content required in your state, contact us.
Clear Law Institute's interactive online training, COVID-19 Safe Workplace, helps employers comply with federal and state training requirements and promote a safe workplace.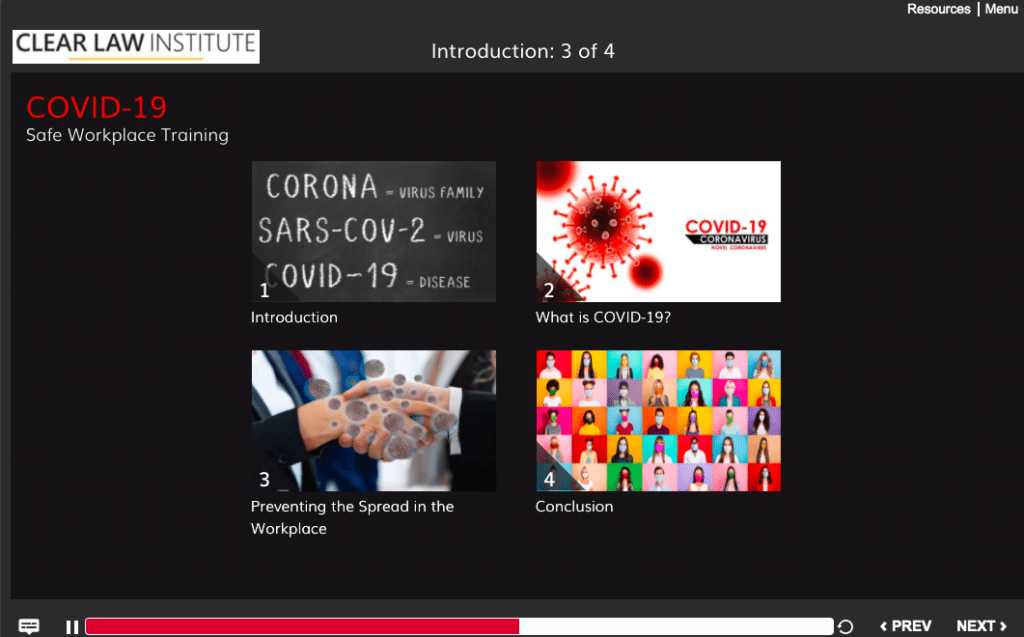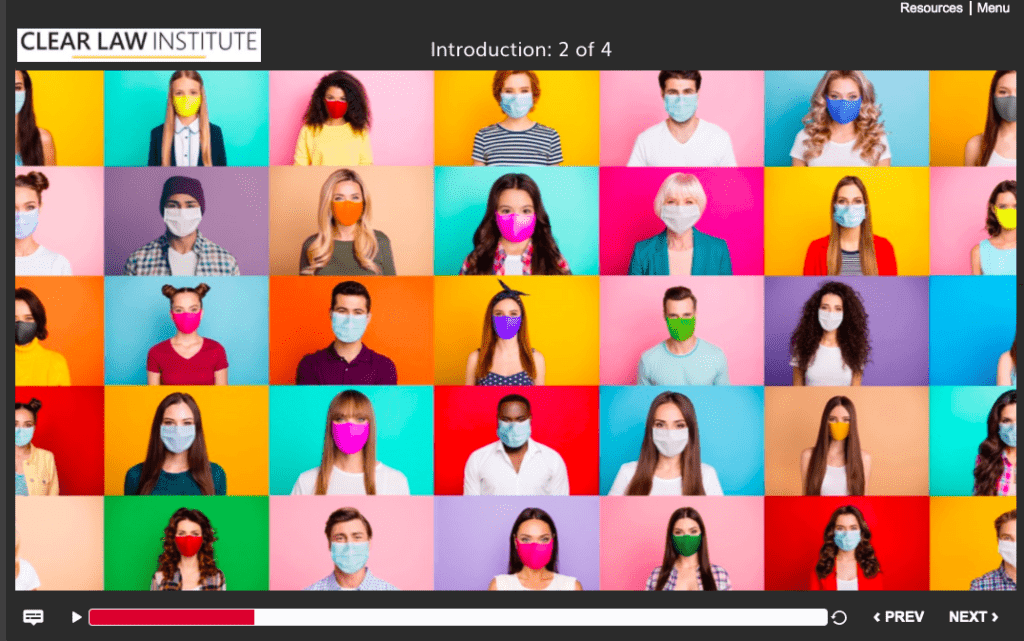 Beyond Check-the-Box Training
Given the health risks of the novel coronavirus and COVID-19, employers must go beyond "check-the-box" training and provide a course that not only complies with legal requirements but also provides employees the practical guidance they need to maintain a safe working environment. Clear Law's COVID-19 Safe Workplace training is fully narrated and includes numerous interactive animations, video demonstrations, and exercises.
Because of the changing nature of the virus risk and guidance from the CDC, OSHA, and other agencies, the course will be continually updated as required.
As required by federal guidelines and state regulations, the course addresses topics such as:
How employees can protect themselves and others in the workplace
COVID-19 symptoms
Who is most at risk
How the virus spreads
Social distancing requirements
Face covering requirements
How to properly put on, wear, and remove a face covering
How to practice proper cough and sneeze etiquette
When and how to wash hands effectively
Employer responsibilities for cleaning
How to safely and effectively clean and disinfect the workplace and personal items
What to do if an employee or someone in their household is sick
What to do if someone reports to work sick or becomes sick at work
When to seek medical care and emergency care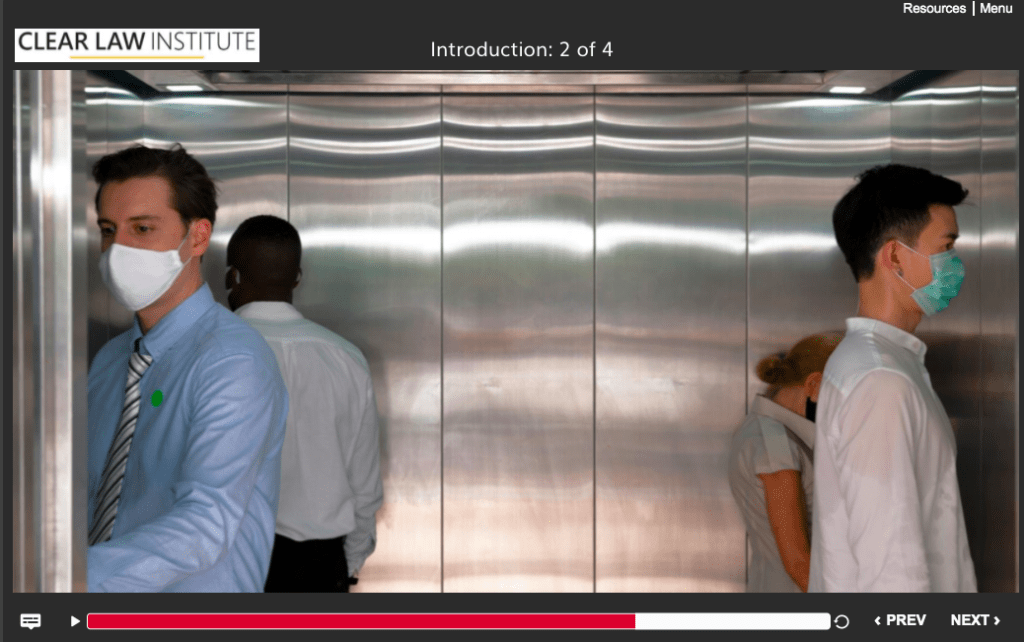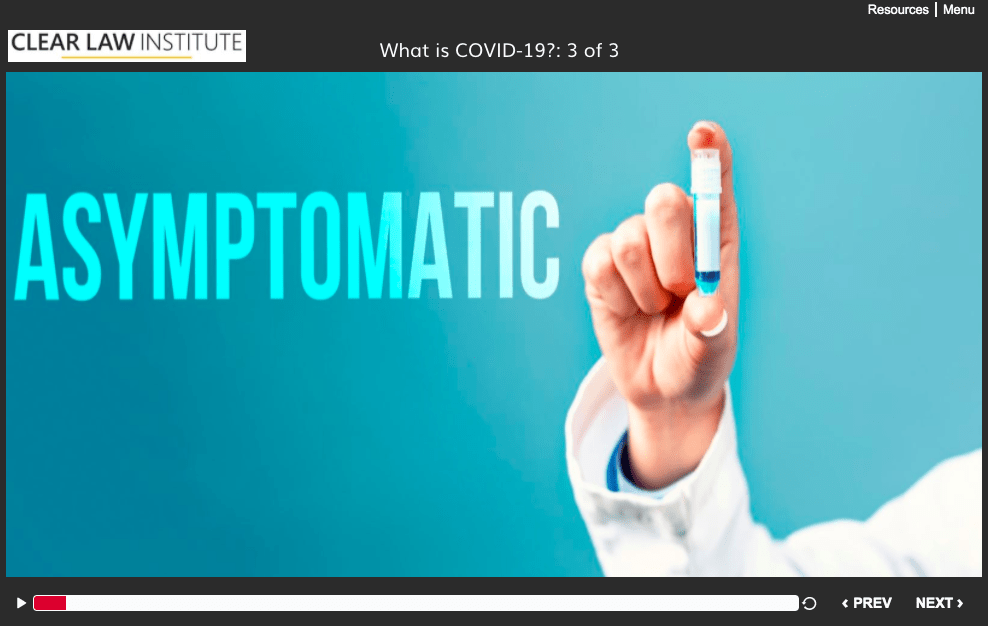 Easy Course Administration
Access on All Devices and Bookmarking
Users can take the training on computers, tablets, or smartphones and can bookmark their progress.
Course Administration
We make delivering the course to your employees effortless either on our Learning Management System (LMS) or your LMS. You can run a report at any time to see who has not yet completed the training.
End User Tech Support
Users call us with tech support questions, not you.
Standard Customizations
We can include your logo, relevant policies, workplace images, and an introductory message from a senior official in your organization.
Policy Review and Acknowledgment
Users can be required to certify that they have read and understood your specific policies related to COVID-19. We can include a "Policy Review" exercise where users are required to search your policies to find the answers to questions relating to your policies.
Advanced Customizations
Clear Law Institute can customize the course further to meet your organization's training needs. We can even have scenarios take place in your workplace environment.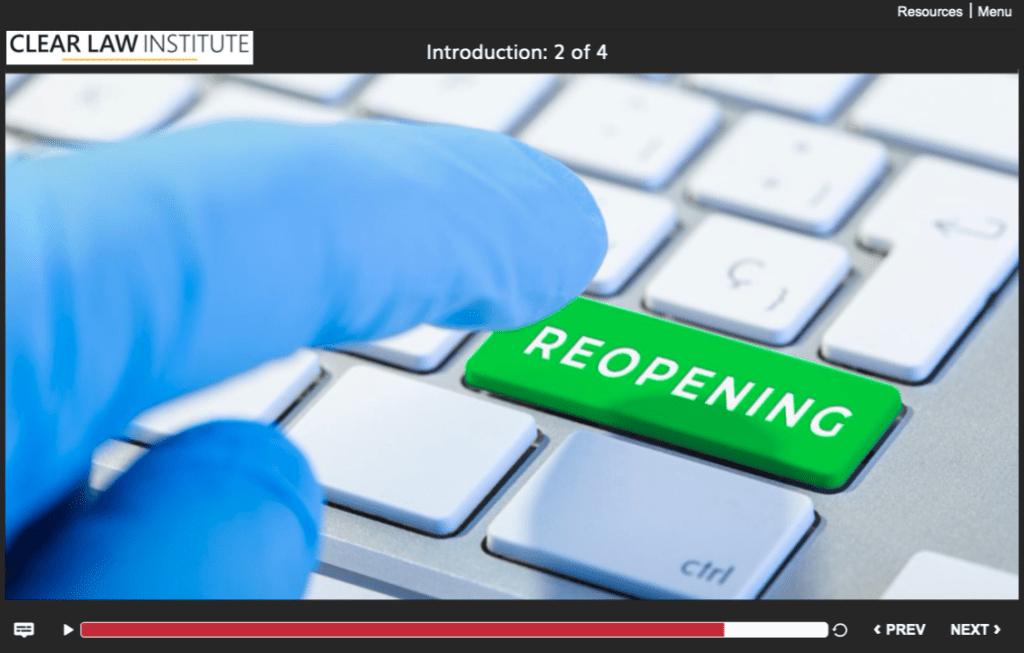 Frequently Asked Questions