COVID-19 Prevention Plans
Several states require employers to develop a written COVID-19 prevention plan.  Employers that fail to do so face citations and fines from government agencies and potential exposure to employee lawsuits.
For example, in California, employers must implement a COVID-19 Prevention Program (CPP) that includes specific elements, such as a workplace hazard assessment, correction of COVID-19 hazards, health screenings, and other workplace safety measures.  The employer's plan must be customized to each specific workplace.
Clear Law Institute guides employers through a step-by-step process to create a COVID-19 Prevention Plan.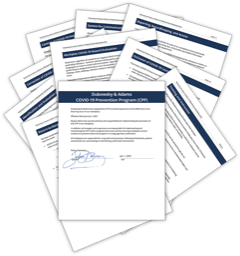 Analysis.  Our program guides employers through a series of prompts and questions to collect the information needed to create a complete, compliant, and personalized COVID-19 Prevention Plan.
Review.  After the employer has provided the information needed, our Compliance Advisory Team develops the personalized client Plan.  The team consults with you to obtain any additional information and to address questions you may have.
Employee Certification.  We provide you the plan in electronic format so that you can deliver it to your employees.  Alternatively, our electronic acknowledgement platform can deliver the Plan to your employees and obtain certification that each employee has reviewed and understands the Plan. 
We offer fixed fee pricing for the development of a custom, compliant COVID-19 Prevention Plan, which is often much less than law firm fees.

Clear Law Compliance Advisory Team
Unlike many training providers that have wandered into the harassment prevention training space, Clear Law Institute is a compliance services company. Our in-house team of compliance advisors has more than 60 years of experience in employment law compliance matters. The following compliance experts lead our team:
Michael Johnson, J.D., CEO of Clear Law Institute, is a former U.S. Department of Justice attorney who brought one of DOJ's first "pattern or practice" sexual harassment cases. Mike has provided training and consulting on harassment prevention and investigations to organizations around the world, such as the EEOC, the United Nations, and Google. He is a graduate of Duke University and Harvard Law School.
Alicia Daniel, Senior Compliance Advisor, has advised on highly regulated fields in both the private and public sectors. She served clients as an associate at Foley Hoag LLP, specializing in investigation defense, healthcare law, and cannabis licensing. From there, she joined the Massachusetts Office of the State Auditor, where she advised the agency on employment and compliance matters as Deputy General Counsel. She graduated with honors from Oklahoma Baptist University and Harvard Law School.
Teresa Harvey Rollins, J.D., Senior Compliance Advisor, has nearly 20 years of experience representing Fortune 500 companies and other employers on a broad range of employment matters, including discrimination and harassment prevention. Tes previously practiced law as Counsel at Dickstein Shapiro and was CEO of PolicyPartner LLC, an employment compliance service provider. She is a graduate of Angelo State University and Southern Methodist University's Dedman School of Law.
Brian Rothenberg, J.D., Senior Compliance Advisor, has advised hundreds of organizations on their compliance training and other compliance needs. An attorney by training, Brian understands both the legal requirements and the other competing challenges organizations face when rolling out compliance training or services. Brian is a graduate of the University of Richmond and the Marshall-Wythe School of Law and the Mason School of Business at the College of William & Mary.

Clear Law Institute provides online compliance training for more than 1,000 clients, including: