A recent study† shows the pervasiveness of sexual harassment within the healthcare industry and point to the importance of providing effective sexual harassment training. According to a survey of 6,200 physicians and clinicians conducted by Medscape in 2018, 7% of physicians and 11% of nurses, nurse practitioners, and physician assistants had experienced some form of sexual harassment within the past three years. About 47% of the perpetrators were physicians. Of the nurses, physician assistants, and nurse practitioners who were surveyed, 44% said the perpetrator was in a subordinate position to them, 30% said the perpetrator was a peer, and 25% said the perpetrator was a superior. These findings indicate that harassment remains pervasive within the healthcare industry, which emphasizes the need for effective sexual harassment training to address this issue.
Effective sexual harassment training should go beyond addressing legal liability. The most effective sexual harassment training incorporates multiple learning approaches and addresses nuances to cultivate a workplace culture that emphasizes diversity, inclusion, and equality. The best training programs also include instruction on bystander intervention and workplace civility.
Beyond implementing an effective sexual harassment training program, organizations should encourage employees to promptly report concerns about sexual harassment. Organizations should provide employees multiple methods to report harassment complaints so employees don't fear punishment and retaliation.
If an employer receives a harassment complaint, it must promptly and effectively investigate the complaint. Employers should ensure that anyone who investigates harassment complaints has received proper investigations training. 
All organizations, including those in the healthcare industry, are responsible for fostering a work environment free of harassment and discrimination. Employers should ensure that they are providing effective sexual harassment training, that their employees feel comfortable reporting concerns, and that those concerns are promptly and effectively investigated.
Why Clear Law Institute?
Hundreds of employers rely on Clear Law Institute to provide online sexual harassment training to their employees across the country because our training:
Complies with all 50 states' laws

Provides users with the ability to ask questions and have those questions answered

Is kept up-to-date with any changes in the law at no additional charge

Utilizes cutting-edge instructional design principles and learning games

Efficiently tracks who has and who has not completed the training each year, as handled by Clear Law's Learning Management System. This prevents employers from having to collect and track certificates manually.
About the Author
Michael Johnson, CEO of Clear Law Institute, is a former U.S. Department of Justice attorney who brought one of DOJ's first "pattern or practice" sexual harassment cases. He has provided training and consulting on harassment prevention or investigations to organizations around the world, such as the EEOC, the United Nations, and Google. He is a graduate of Duke University and Harvard Law School.  Read more about Michael here.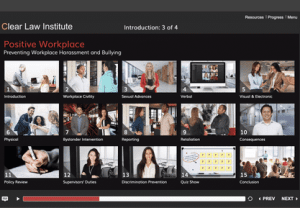 View Harassment Course Demo
To view a 5-minute demo of our online sexual harassment training, Positive Workplace, please complete the form below and you'll be able to watch the demo now.
By submitting this form, I agree to the terms and Privacy Policy.
†Medscape: "10% of Clinicians Have Been Sexually Harassed in Last 3 Years: Survey – Medscape – Jun 15, 2018."