Poster Requirement
As required by the "Stop Sexual Harassment in NYC" Act, the New York City Commission on Human Rights has issued a model sexual harassment prevention poster. Employers who operate in New York City must display the poster in employee break rooms and other common areas by September 6, 2018. While employers must display the poster in both English and Spanish, the Commission has not yet issued the Spanish-language version. You can access the English poster here.
"Fact Sheet" Requirement
The New York City Commission on Human Rights also published a "fact sheet" on sexual harassment, which employers must provide to new employees upon hire. Employers can choose not to provide employees the fact sheet, but only if they include the same information in their employee handbook or other policy that they distribute to employees. NYC employers must comply with this notice requirement by September 6, 2018, and can download the English fact sheet here.
Other Resources
Whitepaper: Clear Law Institute has written a whitepaper detailing the requirements of both the NYC and NY State harassment prevention laws. Read Whitepaper.
Online Training: Clear Law has already modified its online training on Preventing Workplace Harassment to meet the requirements of the new NY State and NYC laws. You can learn more about the online course here.
Questions
If you have any questions or would like to view a demo of our online harassment prevention training, please email [email protected] or call 703-372-0550.
About the Author
Michael Johnson, CEO of Clear Law Institute, is a former U.S. Department of Justice attorney who brought one of DOJ's first "pattern or practice" sexual harassment cases. He has provided training and consulting on harassment prevention or investigations to organizations around the world, such as the EEOC, the United Nations, and Google. He is a graduate of Duke University and Harvard Law School.  Read more about Michael here.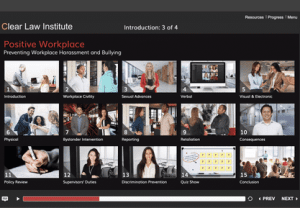 View Harassment Course Demo
To view a 5-minute demo of our online sexual harassment training, Positive Workplace, please complete the form below and you'll be able to watch the demo now.
By submitting this form, I agree to the terms and Privacy Policy.