New York State and New York City Sexual Harassment Training Laws
Michael Johnson, J.D., CEO, Clear Law Institute*
New Sexual Harassment Training Requirements
The New York City Commission on Human Rights has issued guidance stating that, effective January 11, 2020, independent contractors and freelancers who work in New York City must complete annual sexual harassment training in the same manner as employees and interns.
A 2018 New York City law requires employers to provide annual sexual harassment training to all employees who work in the City. The City previously defined "employees" who were required to take the training to include full-time and part-time employees and paid an unpaid interns. The law now requires independent contractors and freelancers to also take the annual sexual harassment training. Previously, the New York City Commission on Human Rights (NYCCHR) recommended training for independent contractors and freelancers but did not require it.
Under the new law, if an employee, intern, independent contractor, or freelancer works:
(a) more than 80 hours in a calendar year, AND
(b) for at least 90 days (which do not need to be consecutive)
then the individual must receive sexual harassment training annually.
Independent contractors and freelancers who work for multiple NYC employers need not take the training at each workplace they work in over the course of a year. They can provide proof of completion of sexual harassment training to multiple workplaces each year, provided the training they completed met all of the New York State and New York City requirements.
The New York City sexual harassment training requirements apply only to employees that work for an employer with 15 or more employees. (Employers in the City, however, must also comply with New York State law, which applies to employers with one or more employees.)
Independent Contractors and Freelancers Now Protected Under Discrimination, Harassment, and Retaliation Law
The new amendments to the New York City Human Rights Law (NYCHRL) also now provide independent contractors and freelancers the same protections from discrimination, harassment, and retaliation under the law that employees and interns have. These protections include the right to seek recourse by filing claims with the New York City Commission on Human Rights or by filing a lawsuit in court.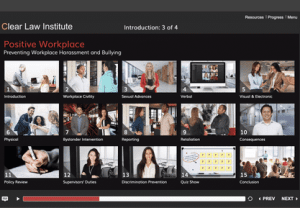 View Harassment Course Demo
To view a 5-minute demo of our online sexual harassment training, Positive Workplace, please complete the form below and you'll be able to watch the demo now.
By submitting this form, I agree to the terms and Privacy Policy.
Independent contractors and freelancers now also have the right to seek reasonable accommodations for needs related to disability, pregnancy, lactation, religious observances, and status as a victim of domestic violence, sexual offenses, or stalking. These rights are now the same reasonable accommodations available to employees.
For workers to be eligible to file claims under the New York City Human Rights Law (NYCHRL), they must work for an employer with four or more employees. However, employers in New York City must also comply with the New York State Human Rights Law ("HRL"). The State expanded its protections against discrimination to contractors, subcontractors, vendors, consultants, or other persons providing services pursuant to a contract in October 2019. And, beginning on February 8, 2020, all employers within New York State will be covered by the state human rights law, regardless of size.
What these Changes Mean for Employers
These amendments to the NYCHRL broaden the sexual harassment training requirement for New York City employers to all workers in their workplaces. They also expand the list of workers who must be given reasonable accommodations under the law and expand employers' potential liability for discrimination, harassment, and retaliation claims in the workplace.
Employers with 15 or more workers must take steps to ensure that freelancers and independent contractors who meet the hours and time threshold are provided with sexual harassment training annually. Employers should ensure that they are providing effective sexual harassment training that meets all federal, state, and city requirements, which can be difficult to navigate, as these changes demonstrate.
Read white paper with tables detailing New York City and New York State sexual harassment training requirements.
Why Clear Law Institute?
Over 800 employers rely on Clear Law Institute to provide online sexual harassment training to their employees across the country because our training:
Complies with all 50 states' laws, including those in New York State and New York City
Provides users with the ability to ask questions and have those questions answered, as required by New York law
Is kept up to date with any changes in the law at no additional charge
Utilizes cutting-edge instructional design principles and learning games
Efficiently tracks who has and who has not completed the training each year through Clear Law's Learning Management System. This prevents employers from having to collect and track certificates manually.
Has no reruns – a new course version is added each year due to New York's annual training mandates.
About the Author
Michael Johnson, CEO of Clear Law Institute, is a former U.S. Department of Justice attorney who brought one of DOJ's first "pattern or practice" sexual harassment cases. He has provided training and consulting on harassment prevention or investigations to organizations around the world, such as the EEOC, the United Nations, and Google. He is a graduate of Duke University and Harvard Law School.  Read more about Michael here.