On October 15, 2017, California Governor Jerry Brown signed into law Senate Bill 396. Among other things, the law requires that employers train their California-based supervisors on the prevention of harassment based on gender identity, gender expression and sexual orientation.
For years, California laws AB 1825 and AB 2053 have required employers with more than 50 employees to provide their California-based supervisors two hours of workplace harassment and bullying prevention training every two years. Employers must now ensure that this training also addresses harassment based on gender identity, gender expression, and sexual orientation. The law goes into effect on January 1, 2018, so training delivered after that date must address these new topics.  The training must include practical examples and be presented by educators with knowledge and expertise in these areas.
Clear Law Institute continually monitors updates to federal and state laws to ensure that its online training is legally accurate and up-to-date. Clear Law Institute's online course, Preventing Harassment at Work, is used by hundreds of employers across the nation, including several Fortune 500 companies.  Learn more about Preventing Harassment at Work and view a free course demo.
About the Author
Michael Johnson, CEO of Clear Law Institute, is a former U.S. Department of Justice attorney who brought one of DOJ's first "pattern or practice" sexual harassment cases. He has provided training and consulting on harassment prevention or investigations to organizations around the world, such as the EEOC, the United Nations, and Google. He is a graduate of Duke University and Harvard Law School.  Read more about Michael here.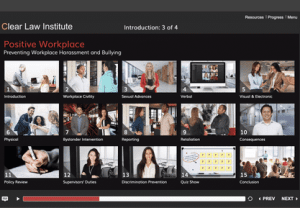 View Harassment Course Demo
To view a 5-minute demo of our online sexual harassment training, Positive Workplace, please complete the form below and you'll be able to watch the demo now.
By submitting this form, I agree to the terms and Privacy Policy.