Employers must ensure that their sexual harassment prevention training for California-based supervisors also provides "abusive conduct" training. On September 9, 2014, California enacted a new law, AB 2053, which modifies the requirements of California's existing sexual harassment training law, AB 1825 (Government Code section 12950.1). Under the new law, the mandatory sexual harassment training for California-based supervisors must now include instruction on the prevention of abusive conduct. This article addresses common questions about the new law.
When does the new law go into effect?
The law went into effect on January 1, 2015. Any training provided to supervisors in California after that date must be compliant with the new standards.
How is "abusive conduct" defined?
AB 2053 defines "abusive conduct" as "conduct of an employer or employee in the workplace, with malice, that a reasonable person would find hostile, offensive, and unrelated to an employer's legitimate business interests."
According to AB 2053, abusive conduct may include:
repeated infliction of verbal abuse, such as the use of derogatory remarks, insults, and epithets,
verbal or physical conduct that a reasonable person would find threatening, intimidating, or humiliating, or
the gratuitous sabotage or undermining of a person's work performance.
The law notes that "a single act shall not constitute abusive conduct, unless especially severe and egregious."
Is abusive conduct now unlawful in California workplaces?
Interestingly, AB 2053 does not make "abusive conduct" or bullying in the workplace illegal and "abusive conduct" is not added to the list of protected characteristics under California harassment and discrimination laws. The law only requires that the training address the prevention of abusive conduct.
What does California law AB 1825 require?
California law AB 1825, which became effective in 2005, requires all employers who employ 50 or more persons anywhere to provide all California-based supervisors two hours of sexual harassment training every two years. New supervisors must receive the training within 6 months of being hired or promoted into a supervisory position. The law sets forth very specific content requirements for the training. The training must be:
effective and interactive
provide information and practical guidance to learners
cover relevant federal and state law
explain prohibitions against and the prevention and correction of sexual harassment
include practical examples to instruct supervisors in the prevention of harassment, discrimination and retaliation, and
describe remedies available to victims of sexual harassment
Conclusion
Employers should act now to ensure that their sexual harassment training meets the requirements of AB 2053. If you have any questions about how to meet the new law's requirements, please call 703-372-0550 or Contact Us.
To learn more about Clear Law Institute's online sexual harassment training that fully complies with the requirements of AB 2053, click here.
About the Author
Michael Johnson, CEO of Clear Law Institute, is a former U.S. Department of Justice attorney who brought one of DOJ's first "pattern or practice" sexual harassment cases. He has provided training and consulting on harassment prevention or investigations to organizations around the world, such as the EEOC, the United Nations, and Google. He is a graduate of Duke University and Harvard Law School.  Read more about Michael here.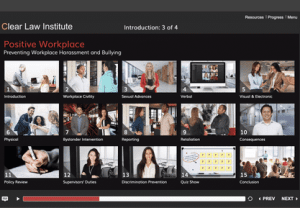 View Harassment Course Demo
To view a 5-minute demo of our online sexual harassment training, Positive Workplace, please complete the form below and you'll be able to watch the demo now.
By submitting this form, I agree to the terms and Privacy Policy.