Employers may not maintain a "blanket rule" prohibiting employees from discussing ongoing employee misconduct investigations, according to a July 30 ruling by the National Labor Relations Board. In Banner Health System d/b/a Banner Estrella Medical Center, the Board held that such a broad confidentiality rule violates Section 7 of the National Labor Relations Act, which gives employees the right to discuss concerns with each other for their mutual aid and protection. In a particular investigation, an employer may be able to order employees to maintain confidentiality, but only if the employer can show a "legitimate business justification that outweighs employees' Section 7 rights." The employer cannot rely on a "generalized concern with protecting the integrity of the investigation." Instead, the employer must first determine if the confidentiality order is necessary to protect witnesses or to prevent the destruction of evidence, the fabrication of testimony, or a cover up. The ruling applies to unionized and non-unionized employees, as both are covered under Section 7 of the NLRA. Employers can continue to order all management employees to not discuss investigations with others, as they are not covered by the NLRA. In light of this ruling, employers should:
Remove blanket confidentiality orders from their investigation policies and procedures
Establish a procedure to determine for each investigation whether there is a legitimate business justification for issuing a confidentiality order
Train all investigators on the nuances of this Board decision and the law of investigations generally
For a review of your investigation policies or to learn more about our internal investigations training, please contact us.
About the Author
Michael Johnson, CEO of Clear Law Institute, is a former U.S. Department of Justice attorney who brought one of DOJ's first "pattern or practice" sexual harassment cases. He has provided training and consulting on harassment prevention or investigations to organizations around the world, such as the EEOC, the United Nations, and Google. He is a graduate of Duke University and Harvard Law School.  Read more about Michael here.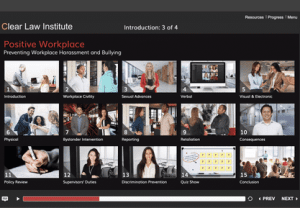 View Harassment Course Demo
To view a 5-minute demo of our online sexual harassment training, Positive Workplace, please complete the form below and you'll be able to watch the demo now.
By submitting this form, I agree to the terms and Privacy Policy.