California has passed a law requiring that all agricultural employees—both supervisors and non-supervisors—receive training on sexual harassment prevention when hired and at least once every two years thereafter. The law, signed in September 2014, places stricter training requirements on agricultural employees that those currently required of other California employers under the state's sexual harassment training law, AB 1825. Unlike in other industries, the sexual harassment training requirement for agricultural employees applies not just to supervisors but also to all employees. The law applies to employers of all sizes, not just those that have 50 or more employees.
The new law, Senate Bill 1087, places the burden of providing the training on "farm labor contractors" who supply workers to growers. To have their license renewed, farm labor contractors must prove that their employees have received the required training.
The sexual harassment prevention training provided to agricultural employees must address, at a minimum:
The illegality of sexual harassment.
The definition of sexual harassment under applicable state and federal law.
A description of sexual harassment, utilizing examples.
The internal complaint process of the employer available to the employee.
The legal remedies and complaint process available through the Department of Fair Employment and Housing.
Directions for how to contact the Department of Fair Employment and Housing.
The protection against retaliation provided under current law.
Training for supervisors must be two hours in length while training for non-supervisors can be shorter.
At the conclusion of the training, the trainer must provide the employee with a copy of the California Department of Fair Employment and Housing's pamphlet DFEH-185, and a record of the training on a form provided by the Labor Commissioner that includes the name of the trainer and the date of the training. The farm labor contractor must also keep a record with the names of all employees who have received sexual harassment training for a period of three years.
Senate Bill 1087 also requires that farm labor contractors themselves receive at least one hour of sexual harassment training. The law also authorizes the state labor commissioner to refuse to provide or renew a license for a farm labor contractor that within the past three years has been found by a court or administrative agency to have committed sexual harassment or employed a supervisor who it knew or should have know had committed sexual harassment.
Conclusion
If you have any questions about how to meet the new law's requirements, please call 703-372-0550 or Contact Us.
To learn more about Clear Law Institute's online sexual harassment training, which is available in both English and Spanish, click here.
About the Author
Michael Johnson, CEO of Clear Law Institute, is a former U.S. Department of Justice attorney who brought one of DOJ's first "pattern or practice" sexual harassment cases. He has provided training and consulting on harassment prevention or investigations to organizations around the world, such as the EEOC, the United Nations, and Google. He is a graduate of Duke University and Harvard Law School.  Read more about Michael here.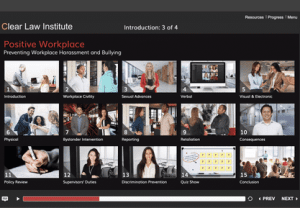 View Harassment Course Demo
To view a 5-minute demo of our online sexual harassment training, Positive Workplace, please complete the form below and you'll be able to watch the demo now.
By submitting this form, I agree to the terms and Privacy Policy.