California has extended protections against workplace harassment and discrimination to unpaid interns and volunteers. The new law goes into effect Jan. 1, 2015.
Passage of AB1443, introduced by Assemblywoman Nancy Skinner, followed similar action in New York and Oregon in the wake of a New York court decision that highlighted the absence of such protections. In that case, a Syracuse University student serving an unpaid internship allegedly was sexually harassed and touched inappropriately by a supervisor. The court ruled that existing law didn't apply to non-employees, including unpaid interns.
California's new law extends protections under the California Fair Employment and Housing act to unpaid interns, volunteers and individuals in apprentice training programs. It makes it an unlawful employment practice to discriminate against or to harass an unpaid intern or volunteer on the basis of any legally protected classification unless an exception applies, such as a bona fide occupational qualification.
Employers also are barred from taking adverse actions against unpaid interns based on their religious beliefs and must provide reasonable accommodations for religious observance unless doing so would pose an undue hardship.
Skinner said interns and volunteers "deserve a safe, fair workplace and the same legal protections against discrimination and harassment as everyone else … No one should give up their basic civil rights just because they are willing to forego pay for experience."
She pointed out that in the New York case in which the university student was serving a media company internship, the supervisor retaliated against her after she refused his sexual advances.
About the Author
Michael Johnson, CEO of Clear Law Institute, is a former U.S. Department of Justice attorney who brought one of DOJ's first "pattern or practice" sexual harassment cases. He has provided training and consulting on harassment prevention or investigations to organizations around the world, such as the EEOC, the United Nations, and Google. He is a graduate of Duke University and Harvard Law School.  Read more about Michael here.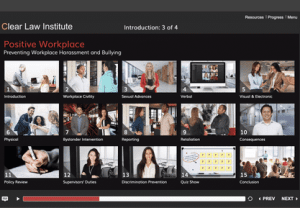 View Harassment Course Demo
To view a 5-minute demo of our online sexual harassment training, Positive Workplace, please complete the form below and you'll be able to watch the demo now.
By submitting this form, I agree to the terms and Privacy Policy.