California has extended the deadline for employees to file an allegation of unlawful workplace harassment, discrimination, or retaliation with the California Department of Fair Employment and Housing (DFEH) to three years.
California Assembly Bill 9 (AB 9) triples the previous one-year deadline. As a result, an employee who suffers sexual harassment, for example, may wait up to three years before filing a claim. The new law becomes effective January 1, 2020.
Given this change in law, employers should ensure that they are providing sexual harassment training in California, as required by state laws such as SB 1343 and AB 1825. Also, because of the new three year deadline to file claims, employers should keep records of employee completion of California sexual harassment training for at least three years. (Learn more about the detailed requirements for California sexual harassment training.)
Furthermore, California Assembly Bill 9 points to the importance of employers promptly and effectively investigating sexual harassment and other workplace harassment and discrimination claims. Employers must effectively train their internal investigators to investigate these claims and write an investigative report that will withstand scrutiny in subsequent litigation. Learn more about Clear Law Institute's investigations training, which has been used by organizations such as the EEOC, Google, Honda, and the World Bank.
To comply with sexual harassment training requirements in all states, hundreds of employers, including numerous Fortune 500 companies, rely on Clear Law Institute. Learn more and view a free demo of our online training: Positive Workplace: Preventing Harassment at Work.
About the Author
Michael Johnson, CEO of Clear Law Institute, is a former U.S. Department of Justice attorney who brought one of DOJ's first "pattern or practice" sexual harassment cases. He has provided training and consulting on harassment prevention or investigations to organizations around the world, such as the EEOC, the United Nations, and Google. He is a graduate of Duke University and Harvard Law School.  Read more about Michael here.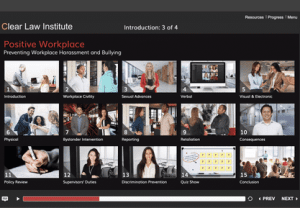 View Harassment Course Demo
To view a 5-minute demo of our online sexual harassment training, Positive Workplace, please complete the form below and you'll be able to watch the demo now.
By submitting this form, I agree to the terms and Privacy Policy.