All COVID-19 Prevention Plan Requirements
COVID-19 Prevention Plans
More than 10 states currently require employers to develop and implement COVID-19 prevention and response plans to protect employees and the public in their workplaces.
This article provides the state-specific orders, guidelines, and regulations that mandate COVID-19 plans. The article also summarizes OSHA's updated COVID-19 workplace guidance and expected Emergency Temporary Standard, which will likely require COVID-19 plans nationwide once issued.
Experts Expect OSHA to Require COVID-19 Safety Prevention Plans Soon
The Occupational Safety and Health Act (the Act) requires employers to "comply with safety and health standards and regulations issued and enforced either by OSHA or by an OSHA-approved state plan." Also, the Act's General Duty Clause, Section 5(a)(1), requires employers to provide workers with a "workplace free from recognized hazards that are causing or likely to cause death or serious physical harm."
OSHA's guidance on Protecting Workers: Guidance on Mitigating and Preventing the Spread of COVID-19 in the Workplace advises employers to develop and implement a COVID-19 prevention program – also known as a plan. The program should, at a minimum, involve "conducting a hazard assessment; identifying a combination of measures that limit the spread of COVID-19 in the workplace; adopting measures to ensure that workers who are infected or potentially infected are separated and sent home from the workplace; and implementing protections from retaliation for workers who raise COVID-19 related concerns." OSHA also recommends employers involve workers, unions, or other employee representatives in developing the program.
While COVID-19 plans are not yet expressly required by OSHA, industry experts expect the anticipated OSHA Emergency Temporary Standards will include a requirement that employers implement such plans in the workplace.
Even if not required at the federal level, employers should develop and implement a COVID-19 prevention program/plan. Under the Occupational Safety and Health Act's "General Duty Clause," employers must provide workers with a safe and healthy workplace. Employers can meet this requirement by, in part, implementing a COVID-19 plan to protect both their workers and the public. Developing and implementing a COVID-19 plan also demonstrates an employer's commitment to employee safety and minimizes the risk of government enforcement actions, workers' compensation claims, and employment litigation.
California OSHA (Cal/OSHA) adopted an Emergency Temporary Standard (ETS) that requires employers to "establish, implement, and maintain an effective, written COVID-19 Prevention Program."  
The ETS applies to "all employees and places of employment" except (1) places of employment with one employee who does not have contact with another person; (2) employees working from home; or (3) employees who are covered by Cal/OSHA's Aerosol Transmissible Diseases Standard (generally applicable to healthcare facilities).
The COVID-19 Prevention Program may be integrated into the employer's Injury and Illness Program or developed and maintained as a separate document.
To eliminate or reduce the risk of workplace COVID-19 exposure, the ETS requires COVID-19 Prevention Programs to address a wide variety of workplace safety measures, such as developing an employee communication system, conducting worksite-specific risk assessments, implementing engineering and administrative controls, and providing personal protective equipment when needed. 
The ETS also requires employers to make their COVID-19 Prevention Program available at the workplace to employees, authorized employee representatives, and representatives of the Cal/OSHA immediately upon request.
Pursuant to Executive Orders issued by Governor Eric J. Holcomb, all entities operating in Indiana are required to adopt a written COVID response plan to "implement measures and institute safeguards to ensure a safe environment for their employees, customers, clients, and members."
All currently open entities are required to periodically re-evaluate their existing plan and update it as necessary to reflect current business practices and safeguards.
The plan must address multiple issues, including but not limited to: employee screening, enhanced cleaning protocols, and ensuring appropriate social distancing between workers and the public. Employers must publicly post the plan and provide it to each worker. 
Massachusetts regulations require all businesses operating brick and mortar locations in the state to develop a written COVID-19 control plan to address workers who become ill from COVID-19 at work, as well as a return-to-work plan in accordance with Massachusetts Department of Public Health guidance. 
Additionally, pursuant to the Governor's COVID-19 Order 33, employers must certify, in writing, compliance with the state's Mandatory Safety Standards for Workplaces, which address a variety of COVID-19 safety measures.  The Standards require all businesses to adopt social distancing, hygiene protocols, staffing, and sanitation protocols, as well as poster displays.  Employers also must comply with a variety of sector-specific safety measures. See generally, 454 Code Mass. Regs §§ 31.00-11.
The plan and certification must be kept in the workplace and made available for inspection by enforcement agencies. See 454 Code Mass. Regs § 31.03 (3)(d).  
The Michigan Occupational Safety and Health Administration adopted Emergency Rules requiring covered employers to develop and implement a written COVID-19 preparedness and response plan, consistent with the current COVID-19 guidance from the U.S. Centers for Disease Control and Prevention (CDC) and the Occupational Health and Safety Administration (OSHA).
The plan must contain, at a minimum, the employer's categorization of job tasks based on the risk of actual or reasonably anticipated exposure to COVID-19, along with the safety measures the employer will implement to prevent employee exposure.
The employer must make the plan readily available to employees and their representatives via a website, internal network, or by hard copy.
Clear Law Institute guides employers through a step-by-step process to create a COVID-19 Prevention Plan. We offer fixed-fee pricing for the development of a custom, compliant COVID-19 Prevention Plan, which is often much less than law firm fees.
To learn more about how this service can help your organization, please contact us to schedule a free consultation.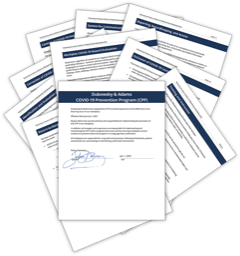 Pursuant to Governor Tim Walz's Emergency Executive Order 20-74, all Minnesota businesses must develop and implement a COVID-19 Preparedness Plan and continually update it to reflect any new or modified requirements issued by state authorities. 
Emergency Executive Order 20-74 defines a "business" as any entities that employ or engage workers, including private-sector and public-sector entities, as well as non-profit entities. 
The plan must address how the business will implement the guidance specific to their industry or, where no specific guidance has been issued, general guidance applicable to all businesses, along with the Minnesota OSHA Standards, CDC, and the Minnesota Department of Health guidelines.
The employer's senior manager responsible for implementing the plan must sign and certify the plan to affirm their commitment to implement and follow the plan.
Employers must provide the written plan to all workers and must post it in all workplaces in a place accessible to workers.  If physical posting is not practical, the plan may be posted electronically, so long as it is received and remains readily available for review by all workers. Additionally, the employer must train all workers on the contents of its plan and required procedures.
Under Emergency Executive Order 20-74, "workers" include owners, proprietors, employees, contractors, vendors, volunteers, and interns.
The requirement to adopt, implement, and maintain a COVID-19 Preparedness Plan "remains in effect until the peacetime emergency declared in Executive Order 20-01 is terminated or until it is rescinded by proper authority."  See, e.g., Emergency Executive Order 21-11.
All New York employers must develop and implement a COVID-19 Safety Plan to "protect employees and consumers, make the physical work space safer and implement processes that lower risk of infection in the business." See NY Forward Opening Guide. 
The plan must address three key factors:
People: The implementation of procedures and other changes necessary to protect workers and customers.

Places: The implementation of cleaning and disinfecting procedures and communications (signage, etc.) to establish conduct expectations in the space.

Process: The implementation of various processes to reduce the risk of transmission in the workplace and respond in the event of exposure to COVID-19.
The plan must also cover any industry-specific guidance issued by the New York Department of Health. The employer must periodically review updated guidance and applicable Executive Orders to stay abreast of evolving guidance and modify its procedures accordingly.
Oregon OSHA's Rule Addressing COVID-19 Workplace Risks requires nearly all Oregon employers to implement an Infection Control Plan.
Under the rules, employers must conduct an exposure risk assessment, which must involve feedback and participation from employees (e.g., during an interactive safety meeting or similar interactive process). Employers with more than 10 employees in the state must document the assessment in writing.
Additionally, employers must implement an Infection Control Plan based on risks identified in the risk assessment. Employers may develop the plan by facility type rather than site-by-site as long as any site-specific information that affects employee exposure risk to COVID-19 is included in the plan. Employers with 10 or more employees must have a written Infection Control Plan and ensure a copy is accessible to employees.
All Rhode Island employers must develop a written COVID-19 Control Plan explaining how it will prevent the spread of COVID-19 in the workplace.  See 216 RI Code Reg.50-15-7. 
The plan must meet the requirements of applicable executive orders and regulations and guidance issued by the Rhode Island Department of Health.
The plan must address, among other matters, requirements for face masks, social distancing protocols, procedures for responding to employee or workplace exposure to COVID-19, cleaning protocols, and methods for staying current on evolving industry-specific guidance.
Vermont's Work Smart and Stay Safe Initiative requires all businesses with at least 10 employees that have been closed for 7 or more days during the state of emergency to complete and keep on file a reopening and training plan.
Businesses with fewer than 10 employees at any physical location are not required to create such a plan, however, they must follow all other health and safety guidelines.
The plan must:
Adopt a phased approach to reopening which provides sufficient opportunity to operate first in a low density and low contact environment before making the incremental changes needed to accommodate more moderate density activity while continuing to maintain health and safety.

Update physical and administrative safety systems to accommodate COVID-19 VDH/CDC/VOSHA guidelines, health monitoring, including temperature checks, cleaning and sanitizing methods, and physical distancing measures.

Take appropriate measures to protect employees at greater risk of contact by virtue of their occupational role or setting.
The Virginia Standard For Infectious Disease Prevention: SARS-CoV-2 Virus That Causes COVID-19, 16 VAC 25-22 (Virginia Standard) requires covered employers to adopt an Infectious Disease Preparedness and Response Plan.
Under the Virginia Standard, all employers must conduct a workplace assessment to determine hazards and job tasks that could potentially expose employees to the SARS-CoV-2 virus or COVID-19 disease and classify every job task as very high, high, medium, or lower risk levels of exposure. 
Employers with (a) any employees classified as "high" or "very high" risk, or (b) 11 or more employees classified as "medium risk" must develop a written Infectious Disease Preparedness and Response Plan.
The Virginia Standard requires employers to designate a specific person (by name or title) responsible for administering the plan, and this person must be "knowledgeable in infection control principles and practices as the principles and practices apply to the facility, service, or operation."  Employers also must provide for employee involvement in developing and implementing the plan.
The plan must address a variety of matters including, but not limited to (a) the risk of exposure associated with various workplaces and job tasks performed at the sites; (b) engineering, administrative, work practice, and personal protective equipment controls necessary to address the identified risks, and (c) contingency plans in the event of actual exposure to employees.

Clear Law Institute serves more than 1,500 clients including: